Since the early 1980s, many SRJC English instructors have selected a common text, a work of literary merit (WOLM), for study in English 1A classes. The number of students who study the WOLM is actually much higher, however, because many instructors assign the selected WOLM in other classes, especially English 1B. In the early years, the program consisted of little more than this agreement on a common text, with instructors benefiting by sharing ideas about teaching the particular work. As the years passed, however, the program developed into an exciting and integral part of the 1A curriculum. A constellation of optional adjunct activities also began to revolve around the WOLM, such as the lecture program, library displays, bookmarks, public readings, and special classes for ESL students. In short, the WOLM has become an event. Note: there is no selected WOLM for summer semesters.
---
Fall 2022 / Spring 2023 WOLM
Man's Search for Meaning, Victor E. Frankl (1946)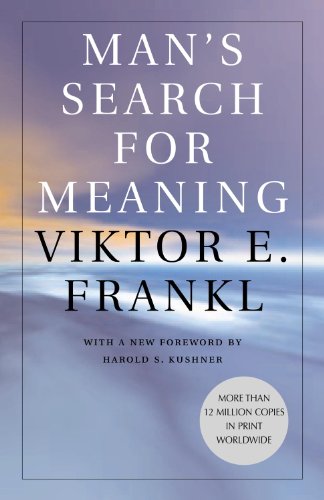 Scheduled Events
In the Shadow if the Reich: Nazi Medicine film screening and Q&A with Dr. John Michalczyk
Please join us for a screening of the documentary film In the Shadow of the  Reich: Nazi Medicine and a Q&A with the director, Dr. John Michalczyk, on Wednesday, November 2nd from 12-1:30 pm in the Burbank Theater Studio. As part of the SRJC English Department's Work of Literary Merit this year (Viktor Frankl's Man's Search for Meaning), Dr. Michalczyk's film studies the step-by-step process that led the German medical profession down an unethical road to genocide. It graphically documents the racial theories and eugenics principles that set the stage for the doctors' participation in sterilization and euthanasia, the selections at the death camps, as well as inhuman and unethical human experimentation.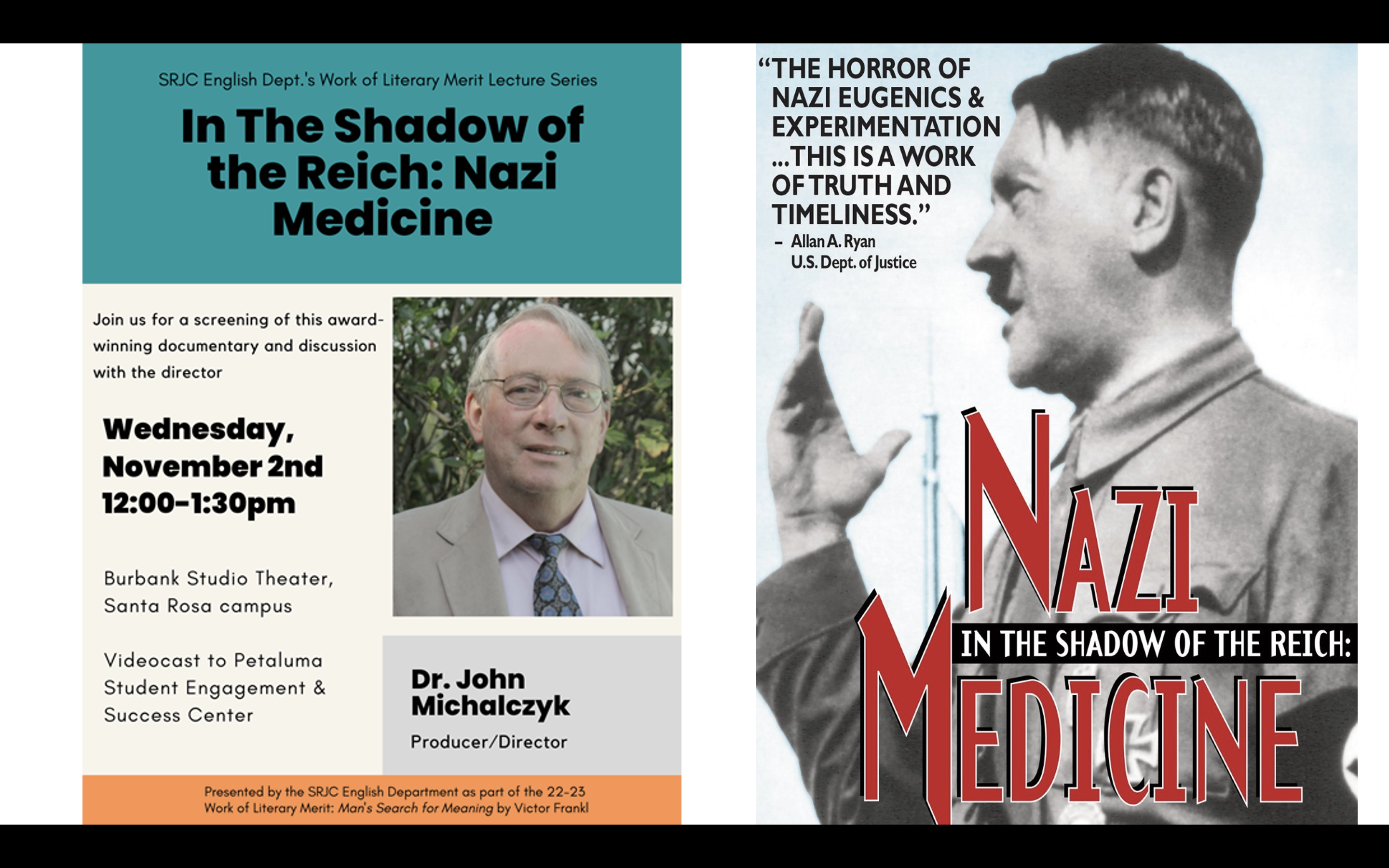 ---
"A Desperate Search for Meaning in a Post-Pandemic World: Viktor Frankl and Man's Search for Meaning" by Dr. Edgar Castellini
November 16th from 12:00-1:00 pm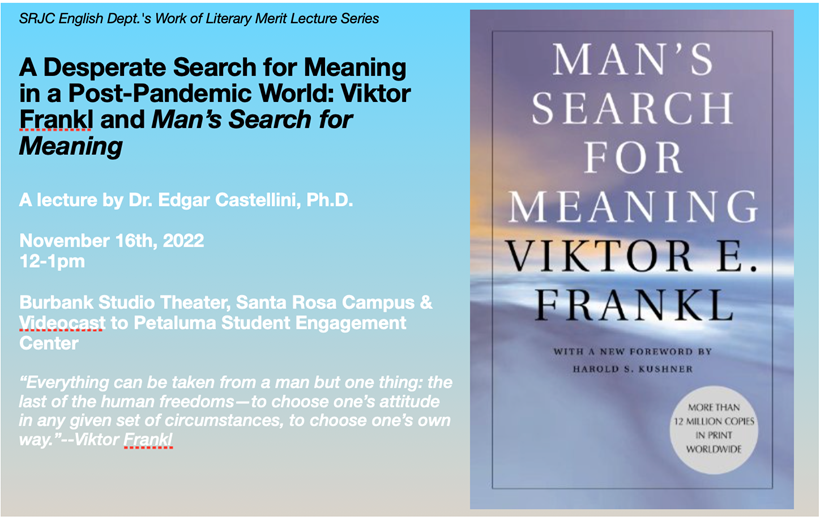 ---
Work of Literary Merit Archive
Interior Chinatown, Charles Yu, Fall 2021, Spring 2022
Dear America: Notes of an Undocumented Citizen, Jose Antonio Vargas, Fall 2020, Spring 2021
Walden, Henry David Thoreau, Fall 2019, Spring 2020
Kindred, Octavia Butler, Fall 2018, Spring 2019
1984, George Orwell, Fall 2017, Spring 2018
Between the World and Me, Ta-Nehesi Coates, Fall 2016, Spring 2017
100 Years of Solitude, Gabriel Garcia Marquez, Spring 2016
The Left Hand of Darkness, Ursula LeGuin, Fall 2015
Collected Essays, James Baldwin, Spring 2015
A River Runs Through It, Norman Maclean, Fall 2014
The Brief, Wondrous Life of Oscar Wao, Junot Diaz, Spring 2014
The Complete Sherlock Holmes, Sir Arthur Conan Doyle, Fall 2013
Passing, Nella Larsen, Spring 2013
Slaughterhouse-Five, Kurt Vonnegut, Jr., Fall 2012
Great Expectations, Charles Dickens, Spring 2012
Reservation Blues, Sherman Alexie, Fall 2011
Into the Forest, Jean Hegland, Spring 2010/2011
Their Eyes Were Watching God, Zora Neale Hurston, Fall 2009/2010
The Adventures of Huckleberry Finn,  Mark Twain, Spring 2008/2009
Pride and Prejudice, Jane Austen, Fall 2007/Spring 2008
Ceremony, Leslie Marmon Silko, Fall 2006/Spring 2007
Ibsen's Selected Plays, Henrik Ibsen, Spring 2006
The Lathe of Heaven, Ursula K. Le Guin, Fall 2005
Middle Passage, Charles Johnson, Spring 2005
The Portable Walt Whitman, Walt Whitman, Fall 2004
Go Tell it on the Mountain, James Baldwin, Spring 2004
Howards End, E. M. Forster, Fall 2003
Tracks, Louise Erdrich, Spring 2003
The Grapes of Wrath, John Steinbeck, Fall 2002
The Awakening, Kate Chopin, Spring 2002
The Turn of the Screw, Henry James, Fall 2001
The Things They Carried, Tim O'Brien, Spring 2001
Gimpel the Fool, Isaac Bashevis Singer, Fall 2000
Where I'm Calling From, Raymond Carver, Spring 2000
Hard Times, Charles Dickens, Fall 1999
Snow Falling on Cedars, David Guterson, Spring 1999
Teaching a Stone to Talk, Annie Dillard, Fall 1998
The Woman Warrior, Maxine Hong Kingston, Spring 1998
Alice in Wonderland, Lewis Carroll, Fall 1997
As You Like It, William Shakespeare, Spring 1997
My Antonia, Willa Cather, Fall 1996
Grand Avenue, Greg Sarris, Spring 1996
Invisible Man, Ralph Ellison, Fall 1995
Jane Eyre, Charlotte Bronte, Spring 1995
Beloved, Toni Morrison, Fall 1994
Ceremony, Leslie Marmon Silko, Spring 1994
The Sun Also Rises, Ernest Hemingway, Fall 1993
The Portable Chekhov, Anton Chekhov, Spring 1993
Waiting for the Barbarians, J. M. Coetzee, Fall 1992
Frankenstein, Mary Wollstonecraft Shelley, Spring 1992
Dubliners, James Joyce, Fall 1991
Song of Solomon, Toni Morrison, Spring 1991
Steppenwolf, Hermann Hesse, Fall 1990
One Hundred Years of Solitude, Gabriel Garcia Marquez, Spring 1990
The Great Gatsby, Fall 1989
The Adventures of Huckleberry Finn, Mark Twain, Spring 1989
The Milagro Beanfield War, John Nichols, Fall 1988
The Day of the Locust, Nathanael West, Spring 1988
The Tempest, William Shakespeare, Fall 1987
A Passage to India, E. M. Forster, Spring 1987
To the Lighthouse, Virginia Woolf, Fall 1986
Heart of Darkness, Joseph Conrad, Spring 1986
Madame Bovary, Gustave Flaubert, Fall 1985
A Gathering of Old Men, Ernest J. Gaines Spring 1985
Pride and Prejudice, Jane Austen, Fall 1984
1984, George Orwell, Spring 1984
The Horse's Mouth, Joyce Cary, Fall 1983
Henderson The Rain King, Saul Bellow, Spring 1983
As I Lay Dying, William Faulkner, Fall 1982
The Mayor of Casterbridge, Thomas Hardy, Spring 1982
Candide, Voltaire, Fall 1981